Choosing professional masking products is half the battle, when spray painting a vehicle of any kind. Using a masking tape that was designed to suit your needs is a real extra hand to obtain faultless results with less effort. Discover Q1® professional tapes.
In this article you will find out:
Professional auto masking tapes: our best sellers
Q1® High Performance Masking Tape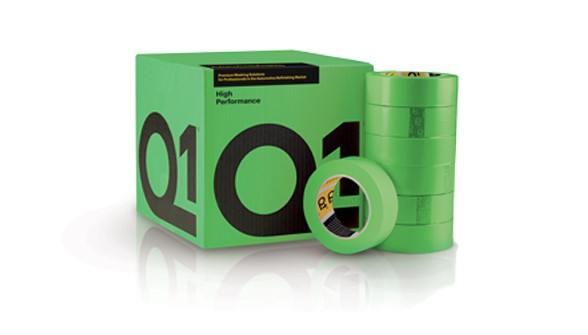 Q1® High Performance Masking Tape has been specifically designed for most critical jobs:
it has a high temperature resistance during the drying cycles (up to 110°C/230°F for as long as 30 minutes)
it provides UV resistance up to three days
it offers superb resistance to moisture, water and solvent based paints, as well as withstanding the process of wet sanding.

The high-quality rubber-based adhesive formula provides a class-leading secure bond on multiple surfaces, preventing lifting or overspray, and a good conformation to curved and irregular surfaces. Its low-profile backing leaves smooth paint edges.


Q1® Premium Masking Tape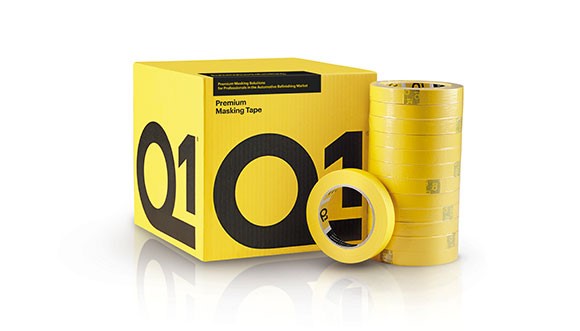 Q1® Premium Masking Tape is an automotive masking tape designed to combine consistent unwinding, easy tear and conformability, performing extremely well when used tape on tape and with masking paper and protective film.
The tape is widely used also to fasten masking paper or masking film to all vehicle surfaces. It can also be torn by hand in short stripes that fit the most irregular surfaces.
Q1® Premium masking tape is made with high quality crepe paper with natural rubber base adhesive, specific for automotive car refinishing applications during drying cycles at high temperatures. It guarantees high adhesion and doesn't leave adhesive traces when removed.
The advantages of a professional masking tape
Using high quality masking tapes like ours can help you:
Saving time in masking and demasking
A professional auto masking tape adheres instantly, is easy to tear and to conform to curves. These features allow you to struggle less when masking the parts you don't want to spray paint. Even when you have to mask off, it will be easy peasy.
Saving time in cleaning after demasking
It doesn't leave residues, even at high temperatures. That's a real deal, because cleaning sticky stains (and don't ruin the car body) is a real pain that needs time.
Obtaining a flawless result
Not every masking tape is able to deliver sharp, clean edges and perfect coverage at the same time. Q1® products will give you the pleasure of a stainless and precise work.
Using professional masking tapes is just the first step you can do. Broaden your horizons by adding masking tools.