In a world of thousands and thousands of different products, finding the perfect masking tape to protect car bodies may be like looking for a needle in a haystack. Which kind of tape should you use? Here's our suggestions.
In this article you will find out:
The must haves of the perfect car masking tape
Professional body shops have to face several challenges, all day long. To obtain flawless results, each masking tool must resist any condition and provide excellent performances. In matter of car masking tapes, you have to find one which:
can easily stand high temperatures
sticks well also to irregular surfaces
conforms well to curves
allows easy unwinding and tear
is compatible with all popular paints and lacquers
is not afraid of situations like wet sanding because it resists to water
Here you are a few examples of masking tapes that have these features.
Q1® range of car masking tapes
Q1® manifactures any masking solution in the automotive painting field. We introduce you to our high quality masking tapes range.
Q1® High Performance Masking Tape
Suggested for: wet sanding and drying cycles with UV lamps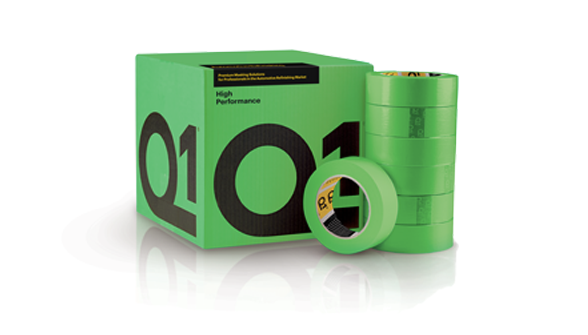 The rubber-based adhesive formula provides a secure bond on multiple surfaces, preventing lifting or overspray. 
It's UV resistant up to three days, making it ideal for projects where UV resistance is required. Furthermore, thanks to a specific water resistance backing treatment, it offers superb resistance to moisture, water and solvent based paints, as well as withstanding the process of wet sanding.
Perfect to use alone or together with any masking film.
Q1® Premium Masking Tape
Suggested for: high temperature drying cycles and standard paint applications
This automotive masking tape is made with premium crepe paper with natural rubber base adhesive, specific for automotive car refinishing applications during drying cycles at high temperatures up to 110°C/230°F. It guarantees high adhesion and doesn't leave adhesive traces when removed.
You can use it alone, with masking paper or masking film.
Q1® Premium Masking Tape
Suggested for: high temperature drying cycles and standard paint applications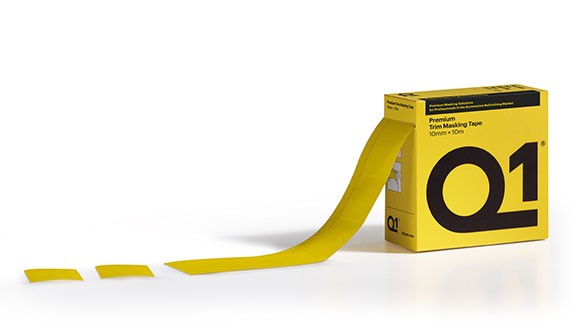 Irregular surfaces and tight curves (such as windscreens and lights) can be really challenging. The most common solution is to tear a classic car masking tape into small stripes to cover any corner.
Lucky you, there's a more comfortable solution. We developed a trim masking tape that is pre-cut every 38 mm, allowing tearing it in short stripes that easily fit into the gaps of trim mouldings.
Its adhesive formula resists moisture and solvents, making trim masking tape compatible with the most used types of paint used in professional car painting.
Are you a paint shop owner? Sell incredible masking products at affordable prices.