Foam masking tape is the fastest way to mask the grooved parts of a vehicle like door jambs, boot and bonnet gaps. Take a look at our tutorial: discover how to properly use it and which products are the most effective.
How to protect boot, bonnet, A-posts and jambs from paint bridging? The most demanding professionals use a special foam masking tape that perfectly fits the gaps of the vehicles and leaves no space for the paint to get through. The product is easy to use and is designed to reduce time and overwork for difficult masking operations. In this video tutorial, we show the best way to use foam masking tape.
How to apply foam masking tape
As you just saw in the video, foam masking tape is really easy to use, just keep in mind some suggestions to increase the quality of the job:
Aaand congratulations, your job is finished!
How to choose a good foam masking tape
Now that you know how to use foam masking tape like a real pro, you have to know how to choose a good product, or your work will be useless. Soft edge foam masking tapes are professional tools that need to guarantee some key qualities to gain clean results:
Suggested foam masking tapes
Q1® Performance Foam Tape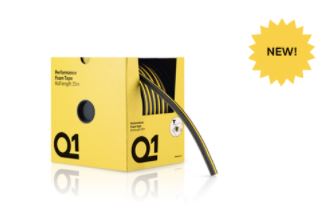 Performance Foam Tape from Q1® is an advanced product for automotive refinishers looking for a professional result every time.
This foam tape is quick, performance-engineered, easy to position, with premium-grade adhesive. Thanks to the special "T" shape it adheres precisely to the different surfaces of any vehicle. Basically, the ideal masking solution for reducing masking time around doors, tailgates and other vehicle access points.
Because the adhesive is offset it will never come into contact with the paint or clear coat during application, giving a feathered finish, with no build-up of hard edges.
Q1® Premium Foam Masking Tape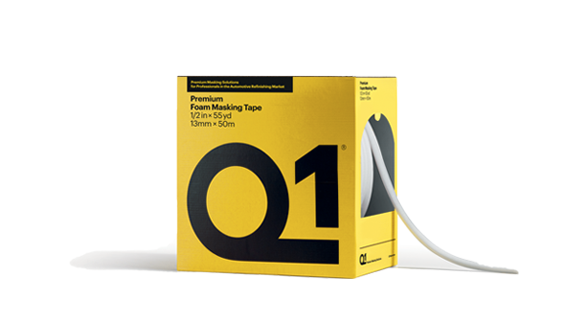 This high quality soft edge foam masking tape can be applied easily inside gaps and jambs with a soft pressure of the fingers. Thanks to its high conformability, the tape perfectly fits the apertures and leaves no leaks through which the paint could overspray. 

Forget paint bridging: refinishing foam masking tape will bring your job to a higher professional level.
Now you are ready to conclude the masking and to move the vehicle in the booth for the drying cycle. 
Get your stock of foam masking tape and improve the productivity of your body shop! Here's where you can find it.