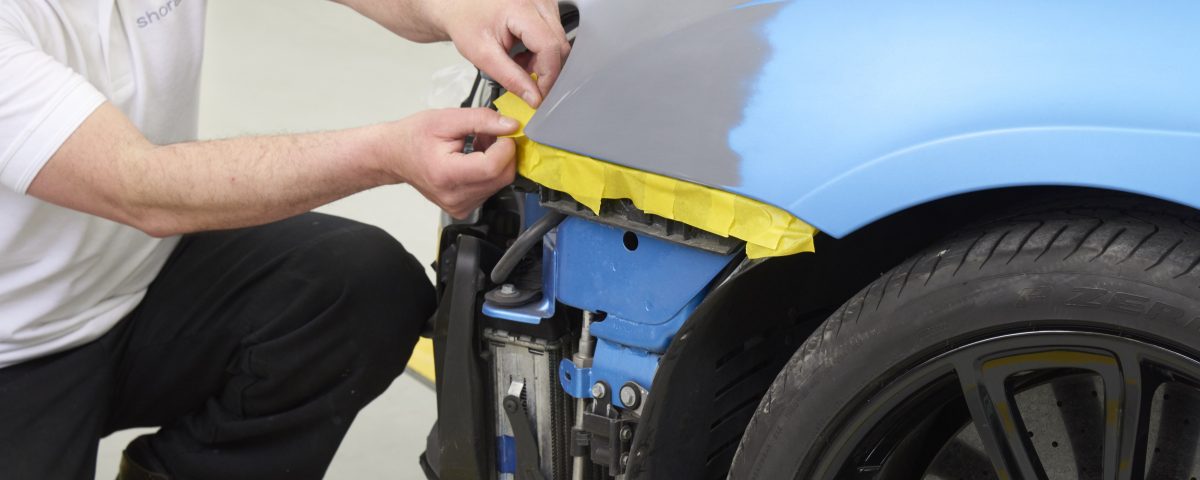 Automotive masking tape or regular tape used for masking? When you approach automotive painting on a professional level, automotive masking tape is the only solution that guarantees the quality level required by customers, as far as precision, adhesive power, cleanness, speed and convenience are concerned.

In this article, we deepen the differences between automotive masking tape and regular masking tape, showing how the first one - thanks to its special adhesive - is the best for your business.
The biggest difference between automotive masking tape and regular masking tape lies in the ability to withstand high temperature. In professional automotive painting, drying the vehicles in spray booths – or using an infrared lamp – at high temperature is an essential step of the procedure. The adhesive used in regular masking tape is simply not designed to resist high temperature exposure: as a result, the tape gets off the surface before the paint has dried, causing the paint itself bleeding on the surface to protect.
Automotive masking tape, on the other hand, is engineered with a special adhesive that keeps its hold when exposed at high temperature. The tape doesn't get off before the paint dries, leaving clean surfaces and clean edges at the end of the job.
Automotive masking tape vs regular tape used for masking: technical features
Beyond high temperature resistance, which remains the most important difference between automotive paint masking tape and regular masking tape, the two also features other minor differences as far as technical values are taken into account. Let's take a look at the technical specs of automotive masking tape vs regular masking tape:
CHARACTERISTICS

REGULAR MASKING TAPE*

AUTOMOTIVE MASKING TAPE**

Total Weight

73 g/m2

92 g/m2

Total Thickness

90 µm

125 µm

MD tensile strength

> 24 N/cm

> 28 N/cm

MD elongation at break

> 6 %

> 8 %

Adhesion to steel plate

> 1.6 N/cm

> 2.2 N/cm
As it is clear from the values, automotive masking tape differs from a regular masking tape with reference to:
All these elements sum up to guarantee a swift and quick job, clean results and, ultimately, time savings and work optimization.
Our best seller: Q1® Premium Masking Tape
Q1® Premium Masking Tape is an automotive masking tape that can be easily applied to all vehicle surfaces, to mask any car body part or to fasten masking paper/masking film.
Designed to combine consistent unwinding, easy tear and conformability, it guarantees high adhesion with a soft pressure of the fingers and doesn't leave adhesive traces when removed.
This automotive masking tape is made with premium crepe paper with natural rubber base adhesive, specific for automotive car refinishing applications during drying cycles at high temperatures up to 110°C/230°F.
* Values refer to PPM Industries S040 AP economic masking tape, the entry level product of the masking tape range
** Values refer to Q1 Tapes Premium Masking Tape, a professional automotive masking tape for the automotive refinish sector